"How can the Messiah come from Galilee?"  (John 7:41)
Born in Bethlehem and raised in Nazareth, Yeshua (Jesus) chose the Galilean fishing village of Capernaum as His home base during His ministry.
Capernaum (pronounced by many as "cuh-PURR-nee-um") comes from two words: Kaphar Nachum (Village of Nahum), though it does not refer to the prophet Nahum.
We don't read about this unwalled village in the Tanakh (Old Testament) because it first appeared during the 2nd century BC.  In the days of Yeshua, however, it became a hub of Divine teaching, healing, and blessing by Messiah Himself.
Why did Yeshua privilege Capernaum with this honor?
Some might say because Capernaum is where Peter, James, John, and Andrew (partners in a fishing business) lived, as well as Matthew (a tax collector), all of whom answered Yeshua's call to follow Him and become His Talmidim (disciples).
Others might say because Capernaum offered a seaside escape from the hostility and drama of urban Jerusalem. But even in Capernaum, a town of about 1,500 people, Yeshua would withdraw "by boat to a secluded place by Himself."  (Matthew 14:13; Mark 1:35–37)
The real reason that Yeshua chose to begin His ministry in Capernaum is that it fulfilled a Messianic prophecy that set the stage for the physical and spiritual restoration of Israel and all nations of the world.
Let us now take a brief tour of that restorative work for the people 2,000 years ago and for us today.
Galilee: A Land of Deep Darkness
Yeshua's destiny in Capernaum on the northwest shore of the Sea of Galilee began eight centuries before His arrival.
At that time, God allowed the empire of Assyria to capture and take into captivity the ten tribes of northern Israel, whose land included the Upper and Lower Galilee.
This was not an impulsive action by God.  He warned the people for centuries, even up to their final days in their Promised Land that this would happen, saying through the prophet Hosea:
"When Israel was a child, I loved him, and out of Egypt I called my son.  The more I called them, the more they went from me; they kept sacrificing to the Baals, and offering incense to idols. … I was to them like those who lift infants to their cheeks.  I bent down to them and fed them.
"They shall return to the land of Egypt, and Assyria shall be their king, because they have refused to return to me.  The sword rages in their cities, it consumes their oracle-priests, and devours because of their schemes."  (Hosea 11:1–6)
By 724 BC, Assyria had captured northern Israel.  In its place, a wave of Gentile immigration repopulated the region, bringing with them a legion of pagan idols and ways of life.
"The king of Assyria brought people from Babylon, Cuthah, Avva, Hamath, Sepharvaim, and settled them in the cities of Samaria [the capital of Northern Israel] in place of the sons of Israel.  So they possessed Samaria and lived in its cities."  (2 Kings 17:24)
For this reason, the region took on the name Galil ha'Goyim (Galilee of the Nations or Galilee of the Gentiles).
These Gentiles incorporated Jewish customs into their own pagan practices, developing a range of superstitions and false doctrines.
Yet, by the days of Yeshua, evidence suggests that many parts of the Galilee region had become mostly Jewish again.
Galilee: Can Anything Good Come from It?
Yeshua's choice of Galilee as His home base caused a stumbling block for those who looked to Scripture for Messiah.  They said,
"Surely the Messiah does not come from Galilee, does he? Has not the Scripture said that the Messiah is descended from David and comes from Bethlehem, the village where David lived?"  (John 7:41–42)
These people did not understand that Yeshua was, indeed, born in Bethlehem of Judea, where David lived (Micah 5:2; Luke 2:4–20).
After spending His very early years in Egypt (as the early Israelites did), the Lord called Him out of that temporary exile and led His family to Nazareth, located in the Lower Galilee, where He grew up (Matthew 2:13–23, as foreshadowed in Hosea 11:1, 5).
He then established His headquarters as Messiah in the Upper Galilee, in Capernaum, for a divine rendezvous with destiny.
It is there that this once contemptible land would become glorious, as Isaiah prophesied:
"In the former time He [God] brought into contempt the land of Zebulun [in the Lower Galilee where Nazareth is located] and the land of Naphtali [in the Upper Galilee where Capernaum later arose], but in the latter time He will make glorious the way of the sea, the land beyond the Jordan, Galilee of the nations."  (Isaiah 9:1; see also Matthew 4:13–16)
Isaiah goes on to say that this glory comes from a great light:
"The people who walked in darkness have seen a great light; those who lived in a land of deep darkness—on them light has shined."  (Isaiah 9:2)
Just in case there would be any confusion as to who or what will be the source of this great light in the Galilee, Isaiah tells us just a few verses later how to identify it:
"For a child has been born for us, a son given to us; authority rests upon His shoulders; and He is named Wonderful Counselor, Mighty God, Father of Everlasting, Prince of Peace."  (Isaiah 9:6)
Isaiah even tells us the purpose of His appearance: the restoration of David's kingdom.
"His authority shall grow continually, and there shall be endless peace for the throne of David and his kingdom.  He will establish and uphold it with justice and with righteousness from this time onward and forevermore."  (Isaiah 9:7)
Galilee: A Great Light Shines Forth
Fast forward 700 years after Isaiah's prophecies, and we see that Yeshua has just been immersed (baptized) by Yohanan (John), escorted to the wilderness for testing, and enters Nazareth to declare His arrival as Messiah (Luke 4:16–21; Isaiah 61:1–2).
Up to that time, Yochanan had been immersing people for the remission of their sins, proclaiming, "Repent, for the kingdom of heaven has come near."  (Matthew 3:2)
But while in Nazareth, Yeshua learns that Yochanan has been arrested.
The apostle Matthew tells us that when Yeshua heard this news, "He left Nazareth and made His home in Capernaum by the sea, in the territory of Zebulun and Naphtali, so that what had been spoken through the prophet Isaiah might be fulfilled. …"  (Matthew 4:13–14; see Isaiah 9:1–2)
Matthew wants us to know that Yeshua came to this ancient land that God took away from the tribes of Zebulun and Naphtali (due to their disobedience) because he wants us to understand that restoration has now arrived, as Isaiah prophesied above.
But the people must do something to be part of this restoration process.
Matthew tells us that Yeshua entered Capernaum heralding (from the Greek word kérussó) as an authorized messenger of God— "Repent, for the kingdom of heaven has come near."  (Matthew 4:17)
Yeshua and Yochanan's messages were the same.
And it is the same message that every prophet had proclaimed over the Jewish People for centuries.  But now the Word of God had come in the flesh to emphatically prounounce it with Divine authority—"Repent, for the kingdom of God has come near."
Repentance required turning back individually and as a nation to the covenant promise that the people made with God when they entered their Promised Land.  At that time, they said:
"The LORD commanded us to do all these statutes, to fear the LORD our God, for our good always, that He might preserve us alive, as we are this day.  And it will be righteousness for us, if we are careful to do all this commandment before the LORD our God, as He has commanded us.'"  (Deuteronomy 6:24–25)
And they promised:  "All that the LORD has spoken we will do, and we will be obedient."  (Exodus 24:7)
Yeshua gave Israel another chance to keep their promise, another chance at righteousness.
The people could turn away from the idols and lusts of the kingdom of darkness and turn back to their covenant promise, which would bring them into God's kingdom of blessings and eternal Light.  Or they could remain unrepentant in the kingdom of darkness.
Which kingdom did the people of Galilee choose?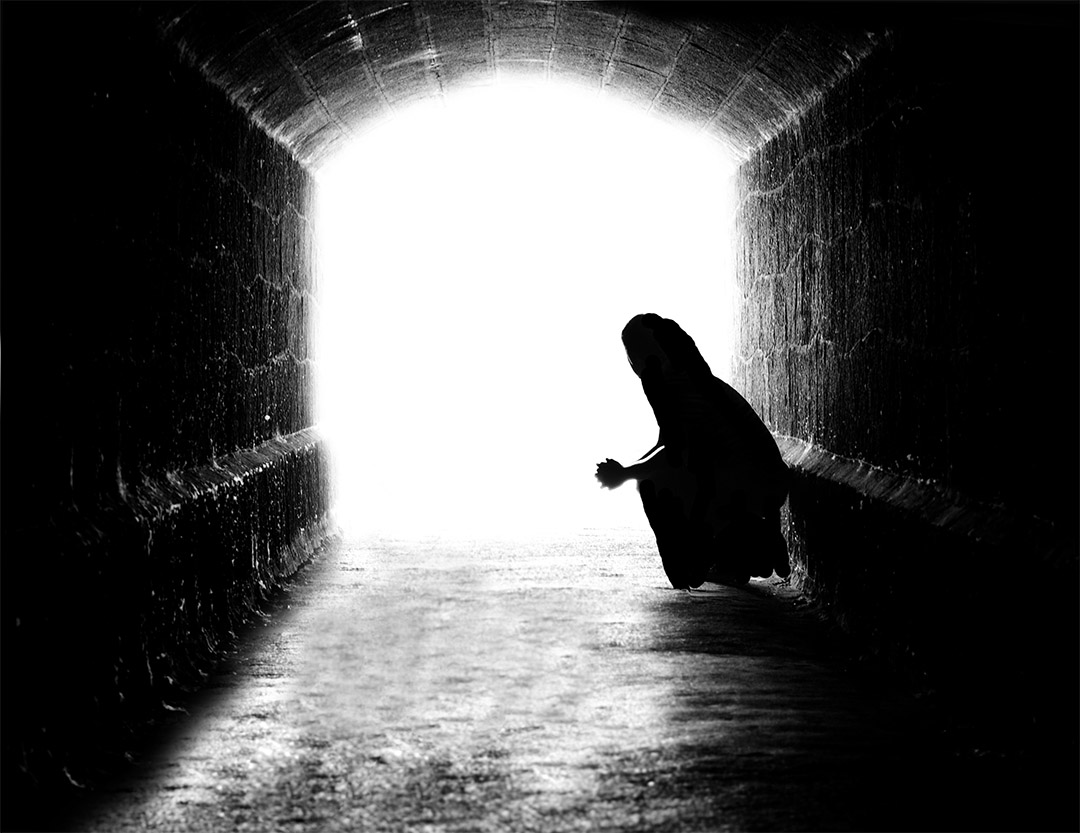 Galilee: A Region of Restoration
There, among the spiritual darkness in the Galilee, Yeshua declared, "I am the light of the world.  Whoever follows me will not walk in darkness, but will have the light of life."  (John 8:12; also Luke 2:29–32)
Yeshua backed up His claim to be the Giver of Light and Life by performing supernatural and glorious acts of physical and spiritual restoration to a downtrodden Galilean people:
Yeshua healed a woman with an issue of blood and raised the dead daughter of Jairus, who was a ruler of a local synagogue (Mark 5:21–43; Luke 8:40–56).
Yeshua healed Peter's mother-in-law and much of the sick of Capernaum who came to Peter's house at the end of Sabbath day.  "The whole city was gathered around the door" (Mark 1:30–34; Luke 40:38–39).
Yeshua multiplied a handful of bread and fish to feed four thousand (Matthew 15:29–39) and five thousand (Luke 9:10–17).
Yeshua expelled a legion of demons from a tormented man (Mark 5:1–20).
Yeshua walked on water (Matthew 14:22–33) and calmed a raging sea (Mark 4:35–41), restoring and strengthening His disciples' faith in Him.
These people whom Yeshua touched in some way in the Galilee believed in His identity as Messiah and did not at all take offense at Him.  Because of that, they were greatly blessed.
"Blessed is anyone who takes no offense at Me," said Yeshua.  (Matthew 11:4–6)
Unfortunately, the darkness was so thick in the Galilee that a great many people took great offense at Yeshua, calling Him "a glutton and a drunkard, a friend of tax collectors and sinners!"  (Matthew 11:19)
How often do we who have been touched by Yeshua declare offensive names and false judgments over Him still today?
Perhaps we reached out to Him to strengthen our spirit, get a job, or find our keys.  And He moved mountains to help us.  But we may still use His name as a cuss word once in a while or tell others how we alone accomplished these great works.
The people of Galilee were no different.  They experienced Yeshua's miracles, yet many refused to believe He was the prophesied Messiah, and they did not repent.
Galilee: A Region of Rejection
Because of their persistent rejection, Yeshua declared three woes over three cities in the Galilee where He shone forth His light with so many glorious deeds:
"Woe to you, Chorazin! Woe to you, Bethsaida! For if the deeds of power done in you had been done in Tyre and Sidon, they would have repented long ago in sackcloth and ashes.  But I tell you, on the day of judgment it will be more tolerable for Tyre and Sidon than for you.
"And you, Capernaum, will you be exalted to heaven?  No, you will be brought down to Hades.  For if the deeds of power done in you had been done in Sodom, it would have remained until this day.  But I tell you that on the day of judgment it will be more tolerable for the land of Sodom than for you."  (Matthew 11:21–23)
Just like Tyre, Sidon, and Sodom, the towns of Chorazin, Bethsaida, and Capernaum died centuries ago.  Only their ruins exist today as tourist attractions.
We repeatedly see the fate of people and communities who reject God's invitation to turn from disobedience and darkness to His light and love.
Yet, God is always seeking to restore His people back to Himself.  And the message of the prophets for both Jew and Gentile in the Galilee 2,000 years ago on how to enter that restoration is the same for us today—believe and repent.
There is still hope that one day the Jewish People will understand that Yeshua did indeed arrive in the Galilee as Messiah.  If they won't discover this truth in the Hebrew Scriptures, perhaps they will be introduced to the idea through the Zohar, a book of Jewish mysticism studied by Reform and Orthodox Jews alike.
The Zohar states that Messiah would arrive in the Galilee first, albeit in the midst of wars that He fights and starts.
"At that time the king, Messiah, will arise to go out of the Garden of Eden from the place called the 'bird's nest' and he will become revealed in the land of Galilee.  On the day that MESSIAH goes there, the whole world will tremble and all the people of the world will hide in the caves and CRACKS in the rocks and will not expect to survive. … 'For fear of Hashem,' is the trembling of the whole world, 'and for the glory OF HIS majesty' is Messiah.
"'… When He arises to shake the earth terribly…' refers to when MESSIAH will arise and be revealed in the land of Galilee, because this was the first place in the Holy Land that was destroyed by Ashur [capital of Assyria].  Therefore, He will be revealed there before any other place, and from there He will stir wars all over the world."  (Zohar: Shemot, ch. 15: The Coming of the Messiah, par. 99–100)
After His baptism, Yeshua came to the land of Zebulun and Naphtali in the Galilee where God's wrath against Israel's disobedience first manifested in exile, as prophesied by Isaiah and Hosea.
And He is coming again to complete the physical and spiritual restoration of David's kingdom for both Jew and Gentile, as prophesied by Ezekiel:
"And I will set up one shepherd over them, and He shall feed them, even My servant David; He shall feed them, and He shall be their shepherd.  And I the Lord will be their God, and my servant David a prince among them."  (Ezekiel 34:23–24)
"And David My servant shall be king over them; and they all shall have one shepherd: they shall also walk in My judgments, and observe My statutes, and do them."  (Ezekiel 37:24)
Come, Lord Yeshua, Come!