The Dead Sea Scrolls
Search for the Qumran caves (1948-1949)
Early in September 1948, Mar brought Professor Ovid R. Sellers, the new Director of ASOR, some additional scroll fragments that he had acquired. By the end of 1948, nearly two years after their discovery, scholars had yet to locate the original cave where the fragments had been found. With unrest in the country at that time, no large-scale search could be undertaken safely. Sellers attempted to get the Syrians to assist in the search for the cave, but he was unable to pay their price. In early 1948, the government of Jordan gave permission to the Arab Legion to search the area where the original Qumran cave was thought to be. Consequently, Cave 1 was rediscovered on 28 January 1949, by Belgian United Nations observer Captain Phillipe Lippens.more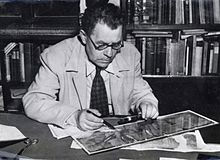 Qumran-Essene Theory
The view among scholars, almost universally held until the 1990s, is the "Qumran-Essene" hypothesis originally posited by Roland Guérin de Vaux[33] and Józef Tadeusz Milik,[34] though independently both Eliezer Sukenik and Butrus Sowmy of St Mark's Monastery connected scrolls with the Essenes well before any excavations at Qumran.[35] The Qumran-Essene theory holds that the scrolls were written by the Essenes,or by another Jewish sectarian group, residing at Khirbet Qumran. They composed the scrolls and ultimately hid them in the nearby caves during the Jewish Revolt sometime between 66 and 68 CE. The site of Qumran was destroyed and the scrolls never recovered. A number of arguments are used to support this theory.
Deterioration, storage, and preservation
Two examples of the pottery that held some of the Dead Sea Scrolls documents found at Qumran.
The Dead Sea Scrolls that were found were originally preserved by the dry, arid, and low humidity conditions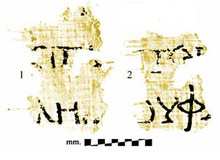 present within the Qumran area adjoining the Dead Sea.[54] In addition, the lack of the use of tanning materials on the parchment of the Dead Sea Scrolls and the very low airflow in the Qumran caves also contributed significantly to their preservation.[55] Some of the scrolls were found stored in clay jars within the Qumran caves, further helping to preserve them from deterioration. The original handling of the scrolls by archaeologists and scholars was done inappropriately, and, along with their storage in an uncontrolled environment, they began a process of more rapid deterioration than they had experienced at Qumran.[56] During the first few years in the late 1940s and early 1950s, adhesive tape used to join fragments and
seal cracks caused significant damage to the documents.[56]The
Government of Jordan had recognized the urgency of protecting the scrolls from deterioration and the presence of the deterioration among the scrolls.[57] However, the Government did not have adequate funds to purchase all the scrolls for their protection and agreed to have foreign institutions purchase the scrolls and have them held at their museum in Jerusalem until they could be "adequately studied".[57]