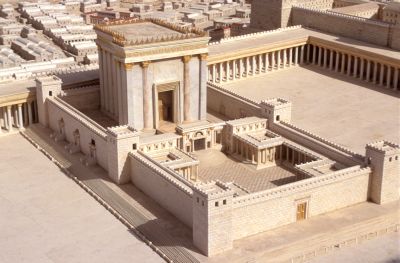 24 "Seventy 'sevens' are decreed for your people and your holy city to finish transgression, to put an end to sin, to atone for wickedness, to bring in everlasting righteousness, to seal up vision and prophecy and to anoint the most holy.
25 "Know and understand this: From the issuing of the decree to restore and rebuild Jerusalem until the Anointed One, the ruler, comes, there will be seven 'sevens,' and sixty-two 'sevens.' It will be rebuilt with streets and a trench, but in times of trouble.
26 After the sixty-two 'sevens,' the Anointed One will be cut off and will have nothing. The people of the ruler who will come will destroy the city and the sanctuary. The end will come like a flood: War will continue until the end, and desolations have been decreed.
27 He will confirm a covenant with many for one 'seven.' In the middle of the 'seven' he will put an end to sacrifice and offering. And on a wing of the temple he will set up an abomination that causes desolation, until the end that is decreed is poured out on him.
Fulfillment:

27 Unlike the other high priests, he does not need to offer sacrifices day after day, first for his own sins, and then for the sins of the people. He sacrificed for their sins once for all when he offered himself.

24 For Christ did not enter a sanctuary made with human hands that was only a copy of the true one; he entered heaven itself, now to appear for us in God's presence.

25 Nor did he enter heaven to offer himself again and again, the way the high priest enters the Most Holy Place every year with blood that is not his own.

26 Otherwise Christ would have had to suffer many times since the creation of the world. But he has appeared once for all at the culmination of the ages to do away with sin by the sacrifice of himself.

27 Just as people are destined to die once, and after that to face judgment,

28 so Christ was sacrificed once to take away the sins of many; and he will appear a second time, not to bear sin, but to bring salvation to those who are waiting for him.
Sponsor Daniel 9 >
View 21 Prophecies