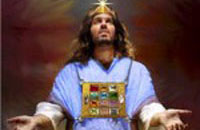 1 Why do the nations conspire and the peoples plot in vain?
2 The kings of the earth take their stand and the rulers gather together against the LORD and against his Anointed One.
3 "Let us break their chains," they say, "and throw off their fetters."
4 The One enthroned in heaven laughs; the Lord scoffs at them.
5 Then he rebukes them in his anger and terrifies them in his wrath, saying,
6 "I have installed my King on Zion, my holy hill."
7 I will proclaim the decree of the LORD :
He said to me, "You are my Son;
today I have become your Father.
8 Ask of me,
and I will make the nations your inheritance,
the ends of the earth your possession.
9 You will rule them with an iron scepter;
you will dash them to pieces like pottery."
10 Therefore, you kings, be wise;
be warned, you rulers of the earth.
11 Serve the LORD with fear
and rejoice with trembling.
12 Kiss the Son, lest he be angry
and you be destroyed in your way,
for his wrath can flare up in a moment.
Blessed are all who take refuge in him.
Fulfillment:

17 And a voice from heaven said, "This is my Son, whom I love; with him I am well pleased."

11 I saw heaven standing open and there before me was a white horse, whose rider is called Faithful and True. With justice he judges and wages war.

12 His eyes are like blazing fire, and on his head are many crowns. He has a name written on him that no one knows but he himself.

13 He is dressed in a robe dipped in blood, and his name is the Word of God.

14 The armies of heaven were following him, riding on white horses and dressed in fine linen, white and clean.

15 Coming out of his mouth is a sharp sword with which to strike down the nations. "He will rule them with an iron scepter." He treads the winepress of the fury of the wrath of God Almighty.

16 On his robe and on his thigh he has this name written:

King of kings and Lord of lords.
Sponsor Psalm 2 >
View 21 Prophecies