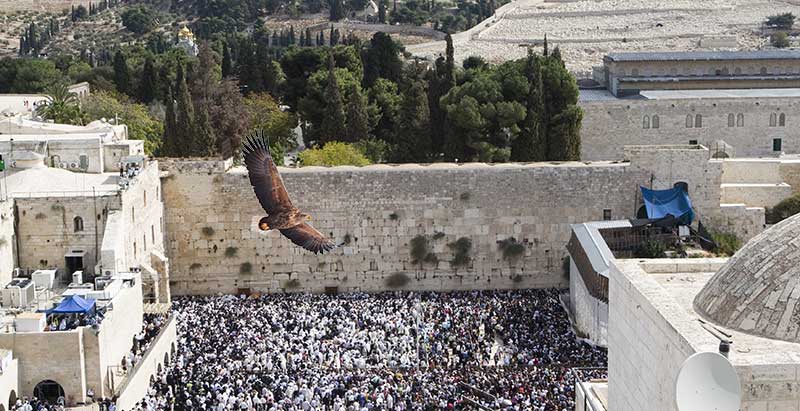 "He will cover you with His feathers, and under His wings you will find refuge; His faithfulness will be your shield and rampart."  (Psalm 91:4)
A storm passes through the night.  A mother hen fluffs up her wings, and calls out to her young chicks, "Come to me!  I'll keep you warm.  I'll protect and comfort you."
No wonder God has used this kind of scene many times in Scripture to describe His own desires to keep us near Him, under His own protective wings.
Let's take a closer look at what His wings can do and what it really means for each of us to come under them.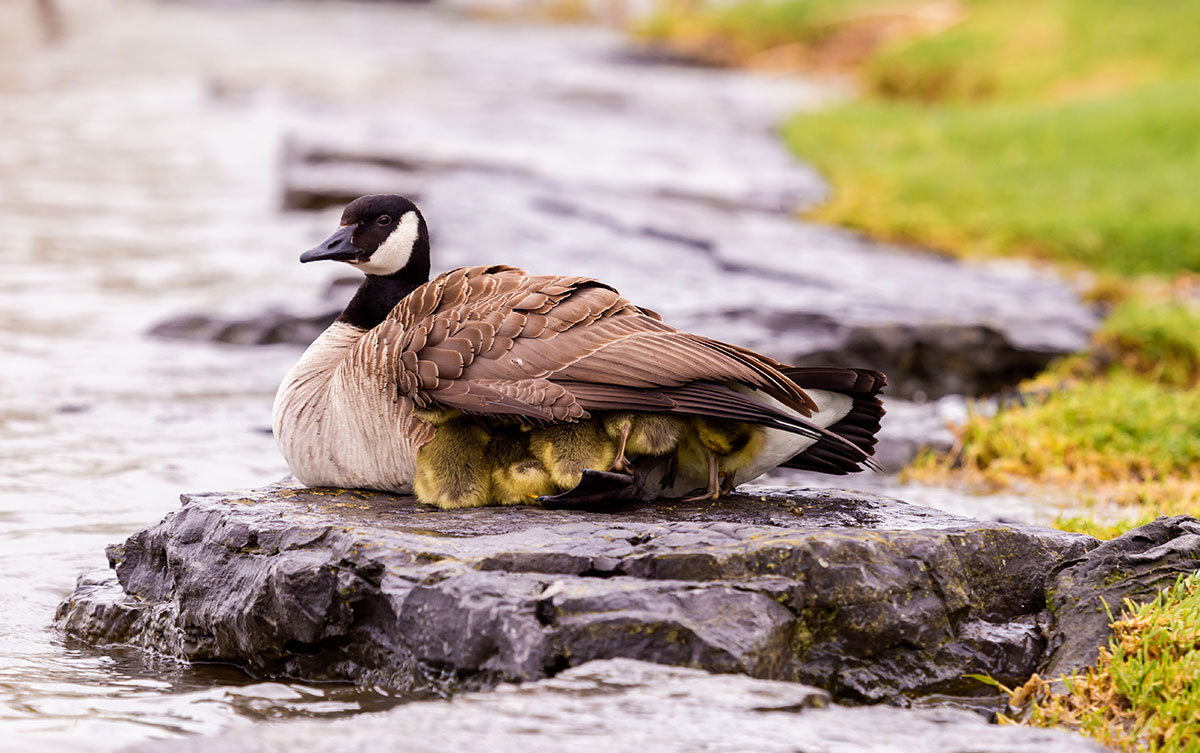 Wings of Majesty, Splendor, and Light
The Hebrew word for the wings of a bird or angel is kanaph.
This word also means the corners of a garment, which might flap in the wind, giving the appearance of a wing.
We see this use of the word when God told the Israelites in the wilderness:
"Throughout the generations to come you are to make tassels [tzitzit] on the [four] corners [kanaph] of your garments, with a blue cord on each tassel." (Numbers 15:38; Deuteronomy 22:12)
The tassels or tzitzit were meant to continually remind the Jewish people of the commandments in the Word of God.
During Biblical times, Jewish men wore a full tallit [gown or cloak], which was rectangular with tzitzit and looked somewhat like a blanket.
After the exile in AD 70, the Jews lived with their Gentile neighbors in foreign lands, adopting their clothing.  As we see today, around the world, Jewish men wear pants and shirts.
So, under their shirt, orthodox Jewish men wear a rectangular undershirt, called a mini-tallit that has tzitzit (tassels or fringes) representing God's commandments.
During prayers, men cover themselves with a prayer shawl, which have tzitzit.
But there's more spiritual significance to wearing this garment than just remembering the mitzvot (commandments).
For many Jewish men who wrap themselves under the covering of the prayer shawl, it's as if they are wrapping themselves under the wings of God's splendor and glory.
While some inspect their tzitzit as they prepare to cover themselves with their tallit (prayer shawl), they recite a blessing that reminds them of how God wraps Himself in His own majesty and splendor.
From Psalm 104:1-2, they pray:
"My soul, bless the Lord! Lord my God, You are greatly exalted; You have clothed Yourself with majesty and splendor. You wrap yourself with light as with a garment; You stretch out the heavens like a curtain."
As each Jewish man wraps himself in the light and glory of God's garment, he symbolically comes under God's supernatural force field, a spiritual and physical place of refuge.
Under His Wings We Find Refuge
When the prayer shawl covers the man's whole being, it forms a special kind of prayer closet where he can focus his prayers, praise, and worship on the Lord God of Israel.  It also reminds him of the covering God provides to those who stay near Him.
As the shawl is first placed over the head, this blessing is recited:
"How precious is Your kindness, O God! The children of men take refuge in the shadow of Your wings [kanaph],"  (See Psalm 36:7-11 for the full blessing).
God's refuge is for everyone, no matter how meek or powerful.
King David was undoubtedly the most powerful man in Israel, and yet he often wrote of his need to flee to God as his refuge.  When it seemed to David as though he were "at the end of the earth," he wrote in Psalm 61:
"I long to dwell in your tent forever and take refuge in the shelter of your wings." (verse 4)
When we are feeling far from God, we can imagine wrapping ourselves with His light, His glory, His splendor as though we were dwelling with Him in His sanctuary under His warm, protective wings.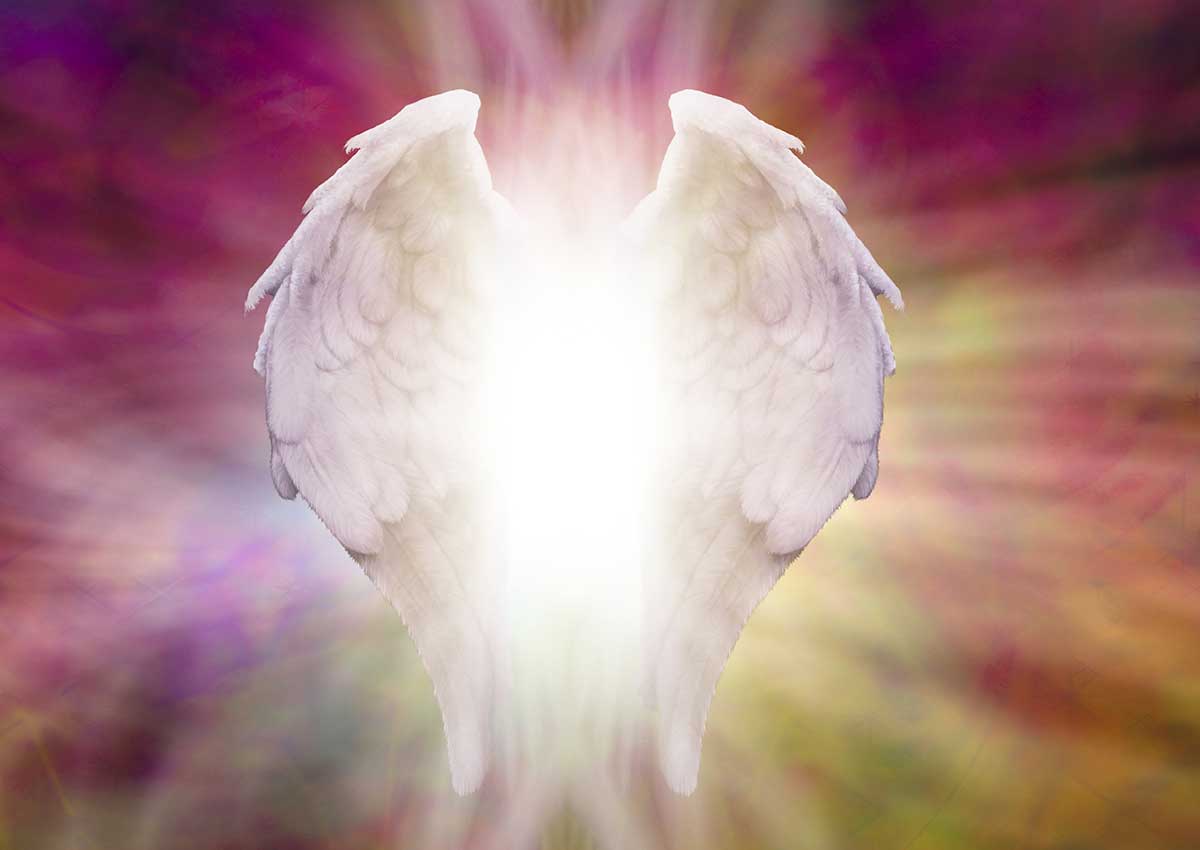 The psalmist says that those who take refuge in God are "blessed" (Psalm 2:12), receive His "great goodness" (Psalm 31:19) and are "saved" from their foes (Psalm 17:7).   And they will "rejoice" (Psalm 5:11). 
The Prophet Isaiah even says they "will inherit the land"  (Isaiah 57:13).
These blessings were certainly bestowed on a foreign widow named Ruth, who left the gods of her homeland in Moab and went to Bethlehem with her Jewish mother-in-law, Naomi.
There she met a wealthy man named Boaz who saw her loyalty, love and dedication to the Lord of Israel as well as to her mother-in-law Naomi.
"May the Lord repay you for what you have done.  May you be richly rewarded by the Lord, the God of Israel, under whose wings you have come to take refuge," Boaz told her.  (Ruth 2:12)
As time progressed, she went to meet Boaz to spread the wing of his garment over her, symbolically asking him to cover her with his protection and authority as a husband (Ruth 3:9–10).
It's a beautiful scene that God Himself used to describe His covenant relationship as a Husband to Israel:
"'Later I passed by, and when I looked at you and saw that you were old enough for love, I spread the corner (wing) of my garment over you and covered your naked body.  I gave you my solemn oath and entered into a covenant with you, declares the Sovereign LORD, and you became mine."  (Ezekiel 16:8)
Upon marrying Ruth, Boaz entered into a covenant with her in which he provided for and protected her.  Moreover, they both became the great-grandparents of King David, from whose lineage the Messiah Yeshua (Jesus) would be born.  
God's garment is so expansive it covers the earth, and He is inviting us to come under it as His Bride.  When we do, we come under His love, protection and authority.
Under His Wings We Come Under His Authority
El Shaddai, Almighty God, is the One whose great wings carried His people out of Egypt.
"You yourselves have seen what I did to the Egyptians, and how I bore you on eagles' wings and brought you to Myself."  (Exodus 19:4)
After carrying His People to safety, God then gathered them to Mount Sinai and put them under His wings of authority, which is His Torah (instructions) and His reign as their King.
But it wasn't a one-sided arrangement.  The Lord protected, provided, and nurtured the Israelites because He had great plans for them:
He said to the Israelites:
"Now if you obey Me fully and keep my covenant, then out of all nations you will be my treasured possession.  Although the whole earth is mine, you will be for Me a kingdom of priests and a holy nation.'"  (Exodus 19:5–6)
Coming under the authority of God meant obeying His laws so that they would become spokespeople for His kingdom.  By showing the pagan nations how God wants people to live, the Israelites would become priests of His holy nation.
Through these Jewish people came forth the Word of God (First and Second Covenants) as well as the Messiah Jesus (Yeshua), instructing and blessing the whole world.
Today, all people who come under the authority of God, both Jew and Gentile, are His spokespeople, His priests.  As the apostle Peter said,
"But you are a chosen people, a royal priesthood, a holy nation, God's special possession, that you may declare the praises of him who called you out of darkness into His wonderful light."  (1 Peter 2:9)
Under the Healing Wings of Messiah
We find a beautiful Messianic prophecy in the very last chapter of the Tanakh about "the sun of righteousness rising with healing in its wings [kanaph]."  (Malachi 4:2)
By completely covering us with His healing "wings," Yeshua (which means "Salvation") provides healing of our souls by forgiving our sins, which places us under His wings for eternity.
As a sign of His divine authority as Messiah, He healed multitudes of people, including some who reached out for the corner [kanaph] of His garment.
In Matthew chapter 9, we read of a woman who after twelve years of bleeding diligently sought after Yeshua in a crowd.  She leaned into the crowd of people around him and touched the fringes on the kanaph of His garment and was instantly healed.
She was not alone.
"When Yeshua crossed the Sea of Galilee to a town on the western shore called Gennesaret, the people sent word throughout the region and brought all who were sick to Him.
"They begged Him that they might touch even the corner (fringes) of His garment; and all who touched it were healed." (Matthew 14:35-36)
Though the crowds were willing to be healed physically by Yeshua, not all of them wanted to hear His message about the Kingdom of Heaven.
Yeshua wept as He looked toward the city that God called His very own, and said:
"Jerusalem, Jerusalem, you who kill the prophets and stone those sent to you, how often I have longed to gather your children together, as a hen gathers her chicks under her wings, and you were not willing."  (Luke 13:34)
Sadly, many were not willing to accept Yeshua as their Lamb of God who takes away the sins of the world.
Because they did not choose Yeshua as their Messiah and their salvation, some say that God has folded His wings to the Jewish People and opened them to the Gentiles, but that is not true.
On the contrary, God's wings are forever open to everyone (Jew and Gentile), who come seeking Him.
God has been revealing Himself as Yeshua the Messiah to Jewish people for the past 2,000 years through the Scriptures (specifically the Messianic Prophecies) as well as through His Spirit in dreams and visions and by Christians witnessing to them.
Today, there are an estimated 350,000 Jews worldwide who believe in Yeshua (Jesus).
"Listen!  I am standing at the door, knocking," Yeshua says.
"If you hear my voice and open the door, I will come in to you and eat with you, and you with me."  (Revelation 3:20)