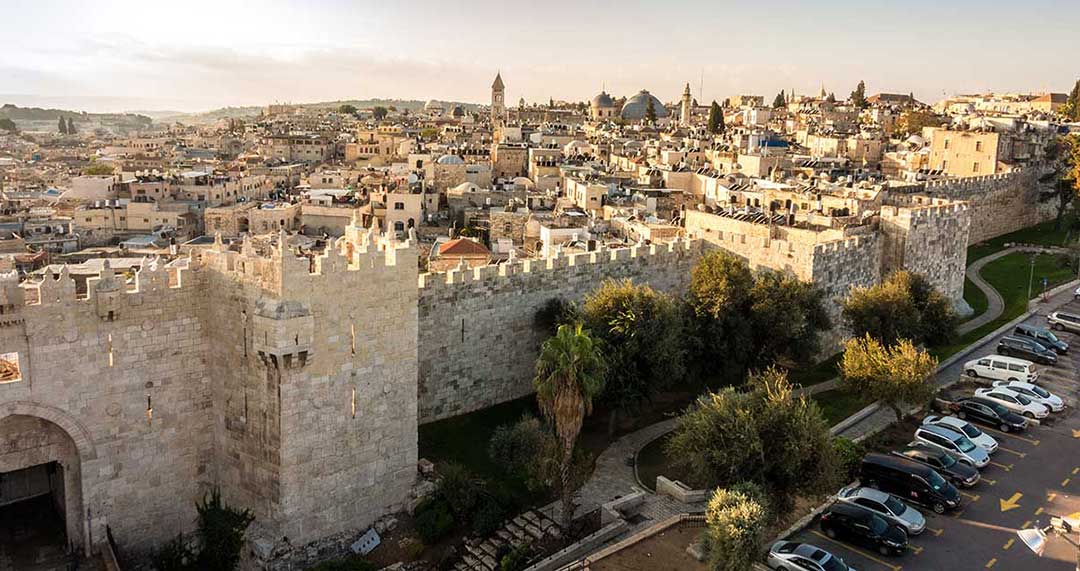 A house, a kingdom, a throne — forever.
These are just a few of the things God promises to give David, a man who captured God's heart.  But not only David.
The promises are part of the Davidic Covenant, which would not only bless David and his descendant, it is even now blessing Jewish and Gentile Believers.
Those blessings will never end, but only increase as we reign with Messiah in His Kingdom to come, the ultimate fulfillment of this covenant.
So let's understand what those blessings are, and what God meant by giving David a house, a kingdom and a throne — forever.
God Promises an Eternal House and Throne
King David wanted to build a house for God, a permanent Temple in Jerusalem.
Although God gave that privilege to David's son Solomon (because David had blood on his hands), He still promised to build up a house for David!
"The Lord declares to you that the Lord will make you a house.  When your days are fulfilled and you lie down with your ancestors, I will raise up your offspring after you, who shall come forth from your body, and I will establish his kingdom."  (2 Samuel 7:11–12)
What kind of house is God building for David?
A house in Hebrew is bayit — בָּ֫יִת.
It is pronounced beit when it identifies the house of someone, such as the House of David — Beit David (בֵּ֣ית דָּוִ֑ד).
In Israel, a bayit could range from a simple stone dwelling to a palace or even the house of God — Beit HaMikdash (Temple — literally, House of the Holy).
More than just a physical dwelling, however, bayit also means a household.
David's household included a long line of descendants who would be kings of Israel.
"'The LORD (YHVH) declares to you that the LORD (YHVH) Himself will establish a house for you: …  Your house and your kingdom will endure forever before Me; your throne will be established forever.'"  (2 Samuel 7:11, 16; 1 Chronicles 17:14, Psalm 89:29, 36–37)
But David's household only stayed on the throne in Israel for 400 years, not forever.
The Davidic Kingdom came to a halt when King Nebuchadnezzar conquered Judah, and many of the Jews including Daniel and Ezekiel were exiled to Babylon (modern-day Iraq).
What happened to God's promises of an eternal kingdom and throne?
For nearly 600 years, from the time of the Babylonian exile in the 6th century BC to the birth of Yeshua, no Davidic monarch reigned in Israel.
The holy land passed from Persian to Greek to Syrian rule, then Rome took over.
God's Promise of Forever, and the Crown
During that "silent" period, some people may have questioned God's ability to keep His promise about a descendant of David ruling forever.
So, God revealed what was going to happen through the Prophet Ezekiel.
Near the beginning of the Babylonian captivity, Ezekiel prophesied that David's house would be held in a kind of trust until a king comes who is worthy to receive the crown.
"As for you, vile, wicked prince of Israel, you whose day has come, the time of final punishment, thus says the Lord God:  Remove the turban, take off the crown; things shall not remain as they are.  Exalt that which is low, abase that which is high.
"A ruin, a ruin, a ruin — I will make it [the throne of David]!  (Such has never occurred.)  until he comes whose right it is; to him I will give it."  (Ezekiel 21:25–27 / verses 30–32 in Hebrew Bibles)
This prophecy reveals that the kingship of Israel will be suspended until God brings forth someone who will be both king and priest (the crown represents the king, the turban represents the ceremonial garb of the high priest).
David's Throne Transfers to a Priestly King
King David himself wrote that the coming Messiah would be a priest:
"The Lord has sworn and will not change His mind.  You are a priest forever, according to the order of Melchizedek."  (Psalm 110:4)
Melchizedek was the king of Salem in the land of Canaan and the high priest of El-Elyon (the Most High God).
God designated Yeshua for this role:
"Having been made perfect, He [Yeshua] became the source of eternal salvation for all who obey Him, having been designated by God a high priest according to the order of Melchizedek."  (Hebrews 6:9–10)
How can we know that the house, kingdom, and throne of David has been transferred to Yeshua as both a priest and king?
Scripture connects the dots for us.
Yeshua, the Priestly King
As a priest in the order of Melchizedek, Yeshua offered up prayers of intercession and sacrifice on behalf of the people.
As a king in the line of David, Yeshua fulfilled many of God's promises to David.
Yeshua was born in the line of David as told in the genealogies of Luke 3 and Matthew 1.
This man, although born of a woman, would be more than a human Messiah. He would be the Son of God.
David's son King Solomon was like a son to God.
"I will be to Him a father, and He shall be to Me a son."            (2 Samuel 7:14)
Messiah would actually be the Son of God, according to the psalmist.
"I will proclaim the Lord's decree:  He said to me,  'You are my son; today I have become your father.  Ask me, and I will make the nations your inheritance, the ends of the earth your possession."      (Psalm 2:7–8)
Our Father in heaven confirmed this when Yeshua stood on a mountain with Peter, James, and John and revealed the brilliant glory of God within Himself.
Behind a bright cloud, a voice bellowed:
"This is My Son, the Beloved; with Him I am well pleased; listen to Him!"  (Matthew 17:5; also Romans 1:3–4)
"He shall build a house for My name."
Solomon built the First Temple, a house for God to dwell in on earth.
All who believe in Yeshua are like living stones, built into the house of the Lord (1 Peter 2:4–5), of which Yeshua Himself is the chief cornerstone  (Isaiah 28:16, 1 Peter 2:6–7).
"…and I will establish the throne of His  kingdom forever."
Although the house of David lost its throne for 600 years, the Prophet Amos revealed that David's fallen dynasty would be reinstated and rebuilt  "as in the days of old."  (Amos 9:11)
When would David's house and throne be restored?
Amos gave us a big clue by telling us that when David's house is reinstated, it will include Gentiles who "bear My name."  (Amos 9:12)
 Gentiles began seeking and finding the Lord in great numbers as the apostles preached the Good News of Yeshua beyond Jerusalem into Rome, Corinth, Ephesus, and beyond.
James, the half-brother of Yeshua also explained that David's house was being rebuilt in his day to include Gentiles, just as Amos described  (Acts 15:16–18; Amos 9:11).
When Yeshua resurrected and ascended to heaven, He took His rightful place on His heavenly throne, and God started rebuilding the royal house of David.
If you have accepted Yeshua as your Lord and Savior, the son of the Most High God of Israel, then you are a son or daughter of King Messiah's eternal household.
And you have a role to play in His kingdom today, and forever.
Believers Will Sit on Yeshua's Throne
"To the one who is victorious, I will give the right to sit with Me on My throne, just as I was victorious and sat down with My Father on His throne."  (Revelation 3:21; 2 Timothy 2:12)
Yeshua said that Believers who are victorious (both Jewish and Gentile) will sit with Him on His throne.  Of course, we can't all fit on one throne, nor can we all wear the same crown on our heads.  Each person will be given roles and responsibilities in the Kingdom to come.
But as the Parable of the Ten Talents helps us see (Luke 19:11–27), we are in a training period where God expects us to develop and use the talents and spiritual gifts He has given us in a way that grows His Kingdom on earth.
How well we use what God has given to us will determine our roles and our rewards when we reign with Him in the new revised Kingdom.
Whatever that may be for each of us, we can be sure that we will all be seeking the common good and common goals for all.  It will be a glorious time of serving King Messiah in pure fellowship with Him and each other.
May we be found ready.